We're at the MoSALPN conference today and tomorrow and are having a great time talking to students and instructors in Missouri.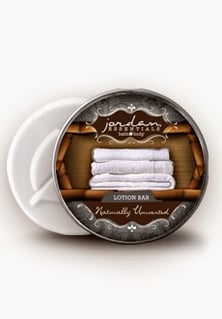 As always, we're working with some great vendors today including one of my person favorites, Jordan Essentials. Anita from Jordan Essentials treated my to a mini-hand scrub to solve my dry travel-skin problem. Then she pulled out a product I've only seen once before and I adore with all my heart: the
lotion bar
.
The reason I'm so crazy about this bar is because it's made with beeswax which holds in all that moisture nurses loose when they wash their hands 2,000 times a day. I don't know why more people don't have these bars. They're not liquid, so you can travel with them and the beeswax keeps you moist for up to 5 washings.
Oh.. and did I mention these ones are all natural and made in the US? Perfection.