We recently stumbled across this article in Arizona's Daily Courier.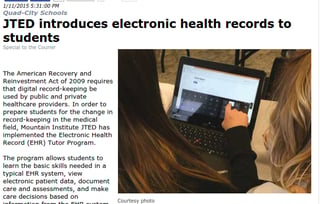 Does anyone recognize the screenshot in the background of the photo? That's one of the students at Mountain Institute JTED using our system, EHR Tutor, on a laptop. Which reminds us - did you know you can use EHR Tutor on any tablet, computer or smartphone regardless of operating system or browser? That means if your students are using Chromebooks with Google Apps for the Classroom, Macs or general second-hand PCs, you won't have to worry about usability. In a bind, your students will also be able to pull up a chart on their iPhone, Android or Blackberry.
If you're one of our customers and would like to be featured on our blog showing how you use our system, let us know! Add a comment or email us at information@ehrtutor.com.