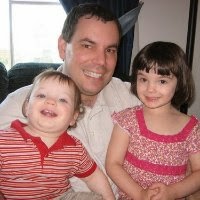 Recently, we've been seeing a lot more of Michael Robellard around the office. As Lead Developer of EHR Tutor, he recently started working on-site with the rest of our Operations team and we thought it's about time to introduce him to our customers as well!
While our customers will probably never get a chance to talk to Mike directly (we keep him secluded in his office with his computers for the majority of the work day), everything you use in EHR Tutor has run across his desk considering he's the guy who wrote the initial code for our site and manages all IT and programming maintenance.
Ever wonder what happens after you make a suggestion to one of our Trainers or Sales People? Every time an issue or suggestion pops up, we bring it to Mike so he can evaluate that suggestion and determine how it could be implemented. So in short, Mike's the head honcho when it comes to making our product exactly what you ask for (and we thank him for it every day!).
Thankfully, he's had enough experience to make great decisions when it comes to programming, so our customers can rest assured knowing they are in great hands. Mike started his career as a Sonar Technician on the USS Seawolf while proudly serving in the Navy and then transitioned to full time IT/Developer work by taking on positions at AIT Inc, AG Interactive, My Techmaster LLC and OnShift.
Somehow in the middle of all that, he also found a way to become a certified Paramedic and worked for MetroHealth's ER in Cleveland. We're not sure quite how he fit that into his busy life, but we're thankful he did since it gave him the skills to single-handedly design our
EMT/EMS module
. It also makes him a great companion when swapping Nursing/ER/Medical stories considering he can one-up any tale of a gruesome or interesting case!