Daniel Shporin is the most recent addition to the EHR Tutor team and we think the best "Welcome Aboard!"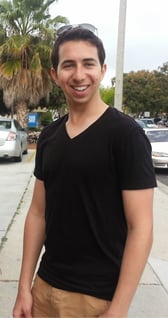 is to introduce him to our most valuable contacts: you.
Last time we introduced you to a team member, we posted about Michael Robellerd, our Lead Developer who works at our main office outside Cleveland, OH. Now we're taking you across the country to NYC where Daniel Shporin is now working to introduce our product to new schools nationwide.
To give you a little insight into our company, hiring a Sales Person is a difficult task for us. We believe our product largely sells itself once we're in front of the right audience, but it takes a dedicated team member to find the right contacts. We were looking for a Sales Person who is persistent but not annoying. Someone who can walk the fine line of being remembered without being pushy. We think we found that right Sales Person in Daniel (and if you know anyone else who fits the bill, please let us know!).
Daniel comes from a long line of sales jobs, most recently being an IT hardware reseller, Myriad Supply, where he was responsible for juggling a large book of business. We found that he valued honesty with his clients more than anything else (even when it meant losing a sale because he couldn't provide the right product for the customer), a value we find incredibly important when it comes to our customers. We love the fact that Daniel isn't afraid of being open about what a product can and can't do - something that helps our customers make the best decisions for their school when it comes to new purchases.
So if you're a school looking for an affordable, user-friendly electronic charting solution, Daniel might be just the person you should talk to. He'll be able to give you the details of EHR Tutor and schedule a demo for anyone who is interested. Feel free to contact him any time at daniel@ehrtutor.com or by calling our main phone number , 440-305-6188.