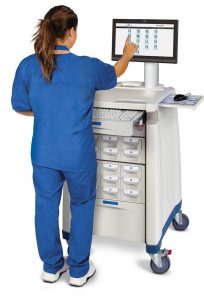 EHR Tutor announces upcoming integration with Capsa FirstDose Medication Management System in an effort to streamline simulated medication dispensing and administration.
The newly created integration includes plans to allow EHR Tutor's academic electronic health records system to push data including patient lists and patient orders to the FirstDose cabinet. Planned integration will also include drug formulary sync between FirstDose and EHR Tutor allowing seamless assignment of medications to drawers.
The FirstDose system from Capsa Solutions is the modern way to track who is accessing medications, what medication is pulled, and who the medication is for. Features include configurable medication storage bins and drawers, storage drawers available for organization and stocking of supplies, an expansive work surface and medication preparation area and casters for easy storage or relocation within a space-limited simulation lab.
Using a combination of FirstDose and EHR Tutor, Simulation Lab faculty in Nursing and Health programs will be able to simulate the entire medication process from start to finish. "Now students will be able to use the monitor on a FirstDose cabinet to view a list of patients and patient orders. Then, students will open the correct drawer and bin to retrieve the medication and log it as removed before transferring the medication to the patient's bedside where they will be able to open the electronic charting system to do the final medication administration process including barcode scanning" explains Diane Yeager, Founder of EHR Tutor.
This new integration will mean less work for simulation lab staff and faculty as patient lists and patient orders only need to be entered once and will be visible to students in both the FirstDose system and EHR Tutor.
EHR Tutor continues to offer a cutting edge, intuitive and feature rich solution to electronic charting in Nursing and Health education. The company has plans to integrate with SimCabRx provided by KbPort as well in an effort to provide choices to educational facilities in need of medication dispenser solutions that sync with an electronic charting system.
To get a hands-on view of how integration will work, stop by the Meadows Medical Supply booth #209 at the INACSL conference on June 16th at 5pm. We'll be doing a five minute demonstration: A perfect marriage between your EHR and Medication Cabinet.
For more information on EHR Tutor::
Nikki Yeager
440-305-6188, nikki@noggingroup.com
For FirstDose purchasing information contact:
Meadows Medical Supply
800-645-3585, info@meadowsmedical.com