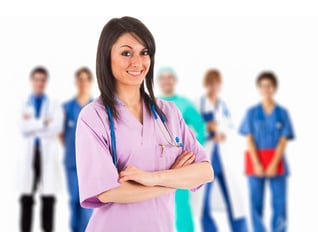 (
Photo credits: Shutterstock)
Guest post by Muhammad Ahmed.
Nursing is an extremely noble profession which requires all your time, energies and efforts. A successful nurse needs to have quick reflexes, should know how to deal with patients and their attendants, and should also have all the required leadership skills for taking necessary decisions. Many professionals recommend that before becoming a nurse, you should clear your CNA exams and work as a Nursing Assistant. It will help you in knowing more how to do your job right and you will turn out to be a highly professional nurse.
Let's see what are the long term benefits of CNA programs
Your Learn How to Make a Difference
Every health care profession is all about how you make a difference by taking good care of your patients. Whether you are a CNA nurse or a PCT nurse, you do make a huge difference in the lives of those who are not able to look after themselves. When you enroll in a CNA program, you are taught how to look after your patients in the best possible manner in a professional way.
It Becomes Easier to be a Registered Nurse
If you want to work as a nurse, then taking a CNA course can be really beneficial for you. People will be able to look you up in the Texas nurse aide registry or whichever registry is available in your state. Since nursing requires a lot of practical effort, being a CNA nurse helps you prepare beforehand. You also become aware of the enormity of the job which lies ahead of you.
You Get a Clear Idea About Specialization
Once you are enrolled in a CNA program and become a licensed certified nursing assistant, you become more clear about which path you want to chose if/when you become a RN. You deal with different types of patients since the very start. You realize what your preferences are and where your interests lie.
CNA Programs are Highly Affordable
You can enroll into a CNA program as soon as you get your high school diploma -- sometimes while still enrolled in high school. If you are an aspiring nurse, yet you don't have the budget to enter a nursing college, you can always opt for a CNA program. This is because CNA programs are highly affordable. There are even free programs! Many online communities also help you in having a better learning experience. Since it is a certification program, its relatively short just as the PCT nurse program. Furthermore, you can always chose to enroll into a nursing program for the Texas nurse aide registry and you can work as a CNA side by side as well.
You can Set Your Own Schedule
If time is of essence to you, then being a CNA nurse means that you can actually set your own working schedule. If you are studying to be a nurse after becoming a CNA, you can occasionally set your working hours according to your school schedule.
You can Transfer Your Credits
The best thing about enrolling into a CNA program is that credits are often transferable. So, whether you want to be a nurse or you are planning to take a change of profession, you can get your credits transferred to any course which you are planning to take.
The Feeling of Satisfaction
When you are in a healthcare profession, then having a feeling of being satisfied with yourself is the most important factor. When you are a nursing assistant, you get to have this feeling a lot of times. You know that you are there for your patients and they trust in you when it comes to taking decisions for themselves.
Author Bio:
Muhammad Ahmad is a certified nursing assistant specialist advisor who has helped many students as well nurses guiding them the best path to become a certified nursing assistant. His current project cnacareersmart.com includes various articles and affiliated videos.